[product_list cat="cross trainer"]
Top 5 Home Cross Trainers On The Market
Cross trainers are a great low impact alternative to the conventional treadmill because you can burn the same amount of calories and see the same results with half the exhaustion. Cross trainers can work your arms and legs at the same time or help you focus on specific parts of your body, and they can come with a range of special features that can help you make the most of your workout.
There are a lot of different cross trainers out there and when you're hoping to buy one it can be hard to know where to begin, but luckily we have compiled a guide of the top 5 cross trainers for home use to give you a good idea of your options and to help you make the best decision based on your personal requirements, budget and goals.
Xterra Free Style 5.8e Review – Our Number 1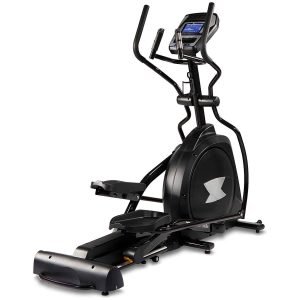 The Xterra Free Style (CHECK PRICE!) is an impressive high-end cross trainer which is packed full of features and extra perks. Read on to discover more.
The Xterra has a stride length of 20"/50.8 cm. It's important to get quite a large maximum stride length because it gives you more flexibility in your workout and will allow you to practice a larger range of movements, and 50.8 cm is large enough to give you all the room you'll need.
This cross trainer's fly wheel weighs 11.3 kg. Most cross training websites will recommend you don't get a fly wheel that weights less than 10kg as it can limit the fluidity and smoothness of your workout and may not last as long. 11.3 kg is large enough to ensure your machine lasts a long time and gives you a good and balanced workout, but it's not large enough to make transportation and storage impossible.
The Xterra Free Style comes with 20 resistance levels and 20 incline levels. This is really important because not only will you be able to keep increasing the resistance and improve over time, but the incline levels will let you simulate climbing stairs or hills and can help you train for specific fitness goals.
This cross trainer comes with a 7.5 inch backlit LCD display which will show you your heart rate, the total time you have been working out, the number of calories you have burned and the distance you have covered.
These displays are really important for your workout because they help keep you motivated, keep you up to date on your progress and helps you set specific goals. For instance if you decide you want to burn 200 additional calories a day you can easily keep track of this via the display system.
Xterra Free Style also comes with 13 additional fitness programs which you can choose depending on your individual goals, and it will display your heart rate measurements to help you train your heart whilst keeping safe.
This cross trainer comes with multi-grip handlebars which you can use to control the resistance and incline of your workout without stopping the exercise.
The Xterra comes with an audio jack, speakers and a cooling fan so you can listen to your music and keep yourself cool during the workout.
The maximum user weight for this machine is 400Ibs (or 181.4kg), so anyone who weighs less than 400Ibs will be able to use the Xterra Free Style.
This machine comes with a lifetime frame warranty, a 5 year parts warranty and a 2 year labour warranty. This means that if the frame is damaged at any time it can be replaced, the other parts of the machine can be replaced within 5 years and you can get the machine repaired within 2 years at no additional cost.
Features
Summary: 20" Stride Length – 11.3KG Fly Wheel – 20 Resistance and Incline Levels – Detailed LCD Display – 13 Additional Fitness Programs – Multi-Grip Handle Bars – Additional Speakers and Cooling Fan – Detailed Warranty.
Pricing: High-end.

JTX Tri-Fit Review – Number 2
The JTX is a powerful and versatile cross trainer that can help you reach your fitness goals. Read on to find out more.
This JTX Tri-Fit cross trainer uses powerful electro-magnetic incline and resistance controls to help you get the most out of your work out.
This cross trainer's fly wheel weighs 17kg. As we've seen above most experts will recommend you buy a cross trainer which has a fly wheel weighing 10kg or above, so this is definitely heavy enough to give you a stable and balanced work out.
The JTX cross trainer comes with 19 workout programs and custom features. It is possible to add up to 5 user profiles so that multiple people can save their weight/height and age and choose their profile before beginning the exercise for more accurate heart measurements and calorie information. Your heart rate and calorie consumption will vary depending on these specifics, so the user profiles give you more personal and useful information.
The programs include sprints, endurance, fitness tests and calorie burning, and you can also design your own custom work out.
The JTX Tri-Fit comes with a clear colour display that will display workout details such as the amount of calories you have burned, the amount of time you have been exercising, pulse, distance, speed and programme.
This machine comes with an optional heart rate chest strap which can make monitoring your heart rate more effective and accurate.
It is possible to adjust the stride length on the JTX cross trainer from 16-20", so you have the option to try out different motions. This machine also comes with four incline options which will make it easier to focus on specific muscles, and higher inclines will provide more of a challenge for experienced users.
This cross trainer has multi position ergonomic handles which will let you control the resistance level of your work out and monitor your pulse without interrupting your exercise.
This product comes with a 28 day money back guarantee, so if you are not satisfied with this cross trainer you can get a refund minus the delivery charge provided you have kept the original packaging.
Summary
Features: Powerful Incline & Resistance Controls – 17KG Fly Wheel – 19 Workout Programs – Colourful & Detailed Display – Included Heart Rate Strap – Adjustable Stride Length – Ergonomic Handles – 28 Day Money Back Guarantee.
Pricing: High-end.

JTX Strider-X7 Review – Number 3
This versatile and adjustable cross trainer can help get you into shape safely and easily. Read on to discover more.
The JTX Strider comes with a large touch screen console that is easy to use and will keep you up to date on your progress. As well as the tie, distance, calories and speed you have covered during your workout the display will also measure your body fat and pulse.
This cross trainer features 21 programmes that you can use to meet your specific goals. These programmes will focus on areas like heart rate control, fat burning, hill climbing and interval training, and you have the option of designing and saving up to 4 of your own personal workout programmes.
The JTX Strider features adjustable non-slip pedals for extra comfort and adjustable floor pads to ensure safety on uneven surfaces.
The stride length on this cross trainer is 16 inches, which should provide enough flexibility for most heights and workouts.
The JTX Strider has a 12.5kg fly wheel. As most experts recommend a fly wheel that weights more than 10 kg, this is more than enough to ensure a smooth and stable work out.
This product comes with an optional wireless chest strap that can monitor your heart rate more efficiently.
This Cross trainer has a weight limit of 110kg, so anyone who weighs less than that can safely use the machine.
This cross trainer contains 16 magnetic resistance levels that can be controlled via simple buttons.
The JTX Strider comes with a 28 day money back guarantee and a 2 year repair warranty that covers all parts and labour and even in-house repairs. This means that if any part of the cross trainer breaks within two years you can have it repaired in your home at no extra cost.
Summary
Features: Large Touch Screen Console – 21 Fitness Programmes – Non-Slip Peddles – 16 Inch Stride Length – 12.5KG Fly Wheel – Optional Wireless Chest Strap – 16 Resistance Levels – 2 Year Repair Warranty
Pricing: Mid-Range.

Sportstech CX610 Review – Number 4
The Sportstech cross trainer is an exercise machine for the modern age. Read on to find out why.
The Sportstech CX610 comes with an app compatible Bluetooth display and an additional tablet holder. This allows you to select a route on google earth and follow it on street view as you train to give your workout a more authentic and interesting angle.
This Sportstech cross trainer has an impressive fly wheel that weighs 18kg, making it extra sturdy and guaranteeing a smoother workout.
This machine has an impressive 32 resistance levels which can help you increase the weight and improve over time.
The Sportstech machine comes with extra large anti-slip pedals which can be adjusted to suit your needs, and the machine itself comes with a water bottle holder to ensure you keep hydrated throughout your workout.
Sportstech CX610 comes with 12 versatile workout programs which includes a manual mode and cardio training as well as workouts which will focus on calorie burning, weight loss and distance training.
The maximum weight for this machine is 120 kg, so anyone who weighs less than this can use the machine.
The Sportstech cross trainer can monitor the users heart rate in order to give them more accurate feedback, and this is enhanced with an optional pulse belt.
This cross trainer has been designed to be flexible and practical, and it includes wheels which can be used to transport and store the machine easily when it's not in use. The Sportstech has also been designed to be extra quiet so you can use it without annoying your family or flat mates.
The Sportstech cross trainer comes with a 5 year manufacture warranty, so if there are any problems which are not your fault you can have it repaired any time within 5 years.
Summary
Features: App Compatible Bluetooth Display – 18 kg Fly Wheels – 32 Resistance Levels – Extra Large Anti-Slip Pedals – 12 Workout Programs – Optional Pulse Belt – Practical Design for Easy Transportation – 5 Year Manufacturers Warranty.
Pricing: Mid-range.

V-Fit MCCT1 Review – Number 5
The V-fit MMCT1 is offering two machines for the (affordable) price of one! Read on to discover more.
If you can't decide whether you want to buy an exercise bike or a cross trainer you're prayers may have just been answered because the V-Fit has combined the two into one machine! You can sit on the optional cycling seat and work on your lower body, or have a go on the cross trainer and work out your arms and legs at the same time.
Buying two exercise machines would normally take up twice the space, but this 2-in-1 V-Fit machine saves you space with its compact bicycle/ cross trainer design.
The MCCT1 comes with a fully adjustable saddle and large non-slip pedals. It also allows forward and backward motion and includes synchronised handle bars so you can work your upper and lower body in the came exercise.
This machines FlY Wheel weighs 4.5 kg, which is understandable when you consider this is a 2-in-1 machine.
This MCCT1 product comes with 8 resistance levels which you can select based on how hard you want to work and your current fitness levels.
The MCCT1'S LCD monitor keeps you up to date with our progress and will show you how many calories you are burning, distance travelled, pulse readings and the speed and time.
This machine is suitable for users who weight 110 kg or under.
Summary
Features: 2-In-1 Cross Trainer and Exercise Bike – Space Saving & Compact – Adjustable Saddle- Non-Slip Large Pedals – Synchronised Handle-Bars – 8 Resistance Levels – LCD Monitor.
Pricing: Affordable.

Verdict
These are all fantastic cross trainers but there can only be one winner. First place goes to the Xterra Free Style 5.8e Elliptical Cross Trainer because it meets all the required specifications for a durable and long lasting cross trainer, it is versatile and gives you multiple resistance and incline options for various work outs and training techniques, it comes with a large display that will show you everything you need to know, it comes with free speakers and a cooling fan and it has a large warranty that covers all aspects of the machine.